Aigle Parcours 2 Vario Wellington Boots (Unisex) – Bronze (Dark Green)
Keep comfortable in the field or garden with the Parcours 2 Vario wellington boot. It takes all of the comfort features from the original Parcours 2, such as the Gomma Plus natural rubber upper, absorbent foam insole and shock absorbing sole, but combines it with an adjustable side gusset buckle with tab. It's perfect for those who spend a lot of time in their wellies, and understandably require comfort and practicality.
KEY FEATURES
Unisex wellington boots
Tri-density rubber soles
Dampening cushions in the heels
Adjustable tabs and gussets
Fitted ankles
Absorbent foam over Softex lined rubber insole
Quick drying polyester lining
Natural Gomma Plus rubber upper
A TRIPLE DENSITY SOLE FOR UNRIVALLED COMFORT.
The absorbent cushion built into the heel has a dual effect: it absorbs the impact from walking and restores energy by propelling the heel. It supports the movement of the foot and reduces the effort exerted for movement which is both more dynamic and lighter.
The 2nd density of rubber is an intermediary sole that provides more support and greater axial stability. It therefore provides the foot with more comfort and support in the boot.
The 3rd density is located on the outer sole to resist abrasion. Inspired by a chamois' hoof, it is equipped with a 360 degree curve. The foot holds the ground perfectly for a better grip and improved balance in all situations.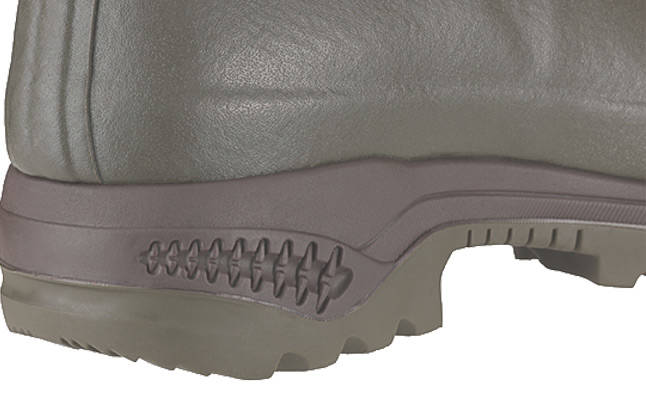 AN INNOVATION THAT HAS BEEN TRIED AND TESTED BY CONSUMERS.
The result of 2 years of research and development, the Parcours® has been assessed by a European panel of hunters, farmers, environmentalists and forest rangers*. They found that the absorption and anti-fatigue innovation offered a 'real feeling of comfort'.
Technical tests carried out in a laboratory demonstrated its performance: a capacity to absorb twice as much energy as the European standard and with twice the grip of the original model.
*Tests carried out by an independent laboratory at the Centre Technique du Cuir (CTC) over 9 months, across various geographical areas and types of terrain.