Aigle Parcours 2 ISO Wellington Boots (Unisex) – Bronze
A TRIPLE DENSITY SOLE FOR UNRIVALLED COMFORT.
The latest Parcours 2 ISO wellingtons have been created to support the roll of the foot. Its shock absorbing sole limits the impact on the heel, optimising movement which becomes lighter and less tiring. Technical trials found that they have twice the energy absorption capacity of the European standard and twice the grip of the original Parcours. The boot upper is made using Aigles unique Gomma Plus® rubber blend so the wellingtons are lightweight, flexible and above all durable. An amazing boot for hardwearing use that would be worn for long periods of time outside.
The absorbent cushion built into the heel has a dual effect: it absorbs the impact from walking and restores energy by propelling the heel. It supports the movement of the foot and reduces the effort exerted for movement which is both more dynamic and lighter.
The 2nd density of rubber is an intermediary sole that provides more support and greater axial stability. It therefore provides the foot with more comfort and support in the boot.
The 3rd density is located on the outer sole to resist abrasion. Inspired by a chamois' hoof, it is equipped with a 360 degree curve. The foot holds the ground perfectly for a better grip and improved balance in all situations.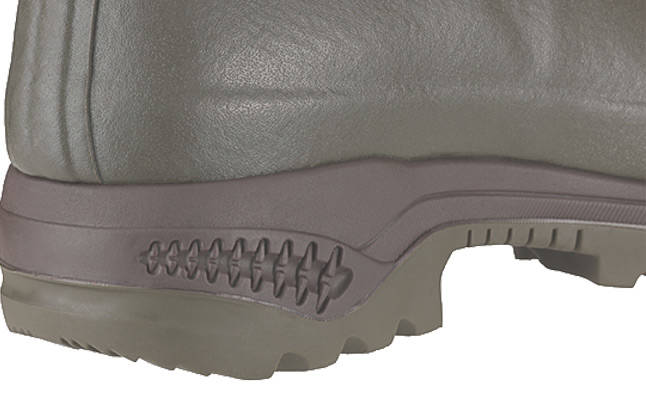 AN INNOVATION THAT HAS BEEN TRIED AND TESTED BY CONSUMERS.
The result of 2 years of research and development, the Parcours® has been assessed by a European panel of hunters, farmers, environmentalists and forest rangers*. They found that the absorption and anti-fatigue innovation offered a 'real feeling of comfort'.
Technical tests carried out in a laboratory demonstrated its performance: a capacity to absorb twice as much energy as the European standard and with twice the grip of the original model.
*Tests carried out by an independent laboratory at the Centre Technique du Cuir (CTC) over 9 months, across various geographical areas and types of terrain.